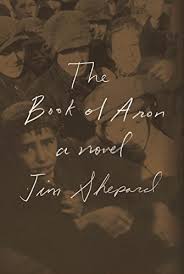 THE BOOK OF ARON hits the stores on May 12.  The book tour is a work in progress, but here are some dates to put in your calendars.  In pen.
May 14–The Odyssey, South Hadley, MA
May 15–Harvard Bookstore, Cambridge, MA
May 16–Newtonville Books, Newton, MA
May 17–Brooklyn Library, Brooklyn, NY
May 18–Franklin Park Reading Series, Brooklyn, NY
May 19–Dallas, TX
May 20–Brazos Bookstore, Houston, TX
May 21–Community Bookstore, New York, NY
May 25-26–Toronto, Canada
May 28–Philadelphia Free Library, Philadelphia, PA
June 2–Politics and Prose, Washington DC
June 3–Books and Books, Miami, FL
June 4–McNally Jackson, New York, NY
June 7–San Francisco, CA
June 11–Los Angeles, CA
June 12–Powell's, Portland, OR
June 13-15–San Francisco, CA
June 17–Seattle, WA
June 18–Milwaukee, WI
June 23–Cleveland, OH
June 25–Oxford, MS
June 26–Nashville, TN
June 29-July 3–London, England
July 12-19–Tin House Writer's Conference, Portland, OR
August 5–New York, NY (with the stunning and talented: Katherine Lee, Sandra Leong, and Bill O'Brien)
Okay, details to come, but consider yourself warned: Jim Shepard is hitting the road.