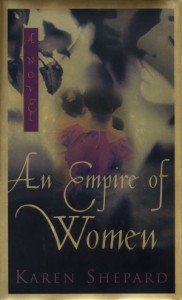 Talented, stong-willed, unabashedly exotic, three generations of Arneaux women share a passion for the arts and their Sino-French roots, yet rarely agree on anything. Then a child enters their lives, whose future is theirs to decide, and their family myths are forever transformed.
The story captures the reunion of Celine Arneaux, a famous French-Chinese photographer, with her Asian-American daughter and granddaughter. The setting is a family cabin in Viginia, where Celine once photographed her granddaughter, Cameron, for a scandalous series of child portraits. Squeezed between grandmother and granddaughter is Cameron's emotionally displaced mother, Sumin. Joining them at the cabin are two outsiders: Sumin's lover, Grady, a journalist who has been assigned to write a profile of Celine; and Alice, an appealing and poised six-year-old Chinese girl temporarily entrusted to Cameron. To each of the adults, Alice represents a fresh chance, a chance to be less self-absorbed than each had been in the past. But the chance to decide Alice's future also unleashes a ruthlessness that has marked the family's history since the Cultural Revolution, and forces exposure of a long-buried secret.
In An Empire of Women, Karen Shepard weaves with wonderful artistry and suspense a captivating tale of custody, collaboration, and the ferocity with which we sometimes sacrifice loved onces to gain own ends.
Reviews and Praise:
"What should a mother do or be? How much does an artist owe her family? Given that every unhappy family is unhappy in its own way, would such households flourish or deteriorate if men were removed from the picture? These are among the inconvenient questions raised by "An Empire of Women," Karen Shepard's delicate yet searing first novel."  — The New York Times Book Review
"While Cam is a striking example of young, bitchy cool, in Celine the author has created a cryogenic empress of self-absorption, and the reader cannot take his eyes off her. Not since the seven-foot-tall hairless Judge Holden in Cormac McCarthy's "Blood Meridian" have we met a figure of such magisterial narcissism." — The New York Times Book Review
"Interesting and idiosyncratic…" — Carolyn See, Washington Post
"Karen Shepard's debut novel is a bravura performance by an author who writes with uncanny authority and courage." — Rosellen Brown
"Readers who appreciate Chinese history will especially enjoy this lovely work." — Library Journal
"…Shepard excels in the rendering of dailiness, with lovely moments of linkage between cultures." — Amy Hempel, Bomb Magazine
"…[From the] first page of An Empire of Women, I was captivated by Karen Shepard's unique voice. This is an exhilarating debut." — Margot Livesey
"Not since Virginia Woolf have the snares and scars of familial relationships been rendered with such brilliance, sensitivity, and icy understatement." — Ron Hansen
"Shepard's powerfully suggestive [novel] snaps with memorably acerbic dialogue…Plainspoken and direct, rich in complexities…." — Publishers Weekly