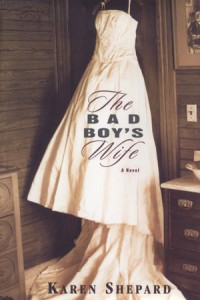 What happens when you marry the bad boy—the reckless, irresistible cowboy who steals your heart and whom you should have dumped after the affair?
Cole Thompson, a gorgeous ne'er-do-well horse trainer, shocks everyone when he proposes to Hannah Baker, the daughter of a wealthy southern family. When, after a twenty-year marriage filled with infidelity and other secrets, Cole leaves her, it comes as a shock to no one but Hannah.  Now, though, there are no longer just the two of them to suffer the consequences: caught in the middle is Mattie, the child who was supposed to settle them down and make them better people.
This is the story of a relationship and marriage told in reverse, from its fateful end to its magical beginnings. Can a husband, a wife, and their ten-year-old pick up the pieces of their broken past and dare to expect something from the future? In the tradion of books like the The Horse Whisperer and Cowboys Are My Weakness, Karen Shepard deals with issues of broken trust, and the damage we cause to the ones we love most.
Reviews and Praise:
"[Shepard] skillfully reconstructs the complicated emotional terrain of a marriage gone sour…. And the real treat is the writing: clean, no-frills and bulls-eye accurate." —The Washington Post
"Taut, disturbing and memorable, this portrait of a marriage gone awry gains unusual power and poetry through its deft inversions of the past."
— Andrea Barrett, National Book Award-winning author of Voyage of the Narwhal and Servants of the Map
"Here is a book of exquisite narrative tension, where the adults struggle to grow up, and the children are left to carry them along, and it is never certain either will succeed. Here is an unsentimental love story so closely observed that, like romance itself, it is nothing less than a gripping psychological thriller." — Sue Halpern, author of The Book of Hard Things
"Like a deft therapist, Shepard takes the narrative backward through time, making ever deeper incursions into her characters' memories, even as they inch ahead with their lives." — O magazine