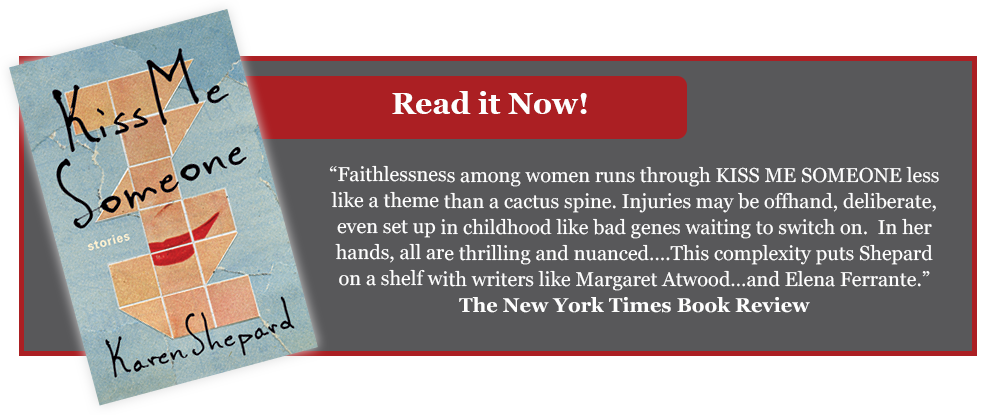 Bold and unapologetic, Karen Shepard's Kiss Me Someone is inhabited by women who walk the line between various states: adolescence and adulthood, stability and uncertainty, selfishness and compassion. They navigate the obstacles that come with mixed-race identity and instabilities in social class, and they use their liminal positions to leverage power. They employ rage and tenderness and logic and sex, but for all of their rationality they're drawn to self-destructive behavior. Shepard's stories explore what we do to lessen our burdens of sadness and isolation; her characters, fiercely true to themselves, are caught between their desire to move beyond their isolation and a fear that it's exactly where they belong.
Praise for Kiss Me Someone
"In this captivating collection of stories, Karen Shepard turns her ever-insightful eye on women, and in her gaze is both love and a startling clarity. Readers of all kinds will find much to relish in this voice–from its storytelling surprises to the sharp observations it extends, over and over, to us on the other side of the page."
-Aimee Bender
"There is such a wondrous variety in these highly accomplished stories. They are rich with invention, with acute (sometimes alarming) awareness, dazzling insight, and pure, word virtuosity."
-Richard Ford
"Women bear the dark consequences of infidelity, lies, and other betrayals."
–Kirkus (Read more here)
"This concise, disturbing collection by Shepard (The Celestials) covers several decades of the author's work, often focusing on troubling experiences of women in the northeastern United States."
–Publisher's Weekly (Read more here)
"At first glance, the women of Karen Shepard's Kiss Me Someone seem linked by a sisterhood of the execrable."
-The Arkansas International (Read more here)
BuzzFeed's list of "28 Exciting Books You Need to Read This Fall," (Read more here)
Book Riot's Make it Quick:14 Upcoming Short Story Collections to Watch For (Read more here)
"These stories, and the characters that inhabit them, are so vivid, they will surely stay with readers for a good long while,"
-Booklist (Read more here)
"Shepard's unapologetically flawed characters make this collection an honest portrayal of womanhood,"
-Ms. Magazine (Read more here)
"Shepard's writing is breathtaking in its ability to capture minor but revelatory personal insights. With her crisp prose and sharp observations, she views characters with devastating and unflinching clarity."
– Shelf Awareness for Readers (Read more here)
"When I closed this brash and unapologetic collection, I re-opened it to start again from the beginning."
– Read It Forward
"Kiss Me Someone cries the inimitable Karen Shepard."
-Vanity Fair (Read more here)
"She is unflinching in her depictions of self-destructive choices and betrayal as well as friendship and love."
-O Magazine (Read more here)
Order Now!



pillows